Bookmark
Video Poker Paytables and Strategies
Other Information
Articles of Interest

Online poker has become very popular among poker players in general, and most casinos online offer a great many variations of the different poker games available. Aces and Eights Video Poker is a Jacks or Better variation that is played with a single, normal 52 card deck of playing cards. These cards are shuffled before each game to ensure fairness. Aces and Eights Video Poker is played like any other variation of Jacks or Better, with the exception that there are higher than normal payouts for any of the following combinations: Four of a Kind (Aces or Eights), Four of a Kind (Sevens), and Four of a Kind (all Others). Aces and Eights does not have any Wild Cards and the Jackpot for the game is 4,000 coins. Making a bet in Aces and Eights Video Poker is simple, yet offers you several choices. In this variation of the game, you can choose a coin size of $0.25, $0.50, $1, or $5 and you can choose to make a 1x, 2x, 3x, 4x, or 5x (Max Bet) per hand for this particular game. These options make your choices plentiful as well as affordable, no matter what your bank roll might be. Aces and Eights Video Poker will surely be very enjoyable for those of you who enjoy Video Poker.
Find out all the latest information on the best Online Casinos, each with exclusive casino bonus offers.
Playing online video poker at online casinos is an exciting way to enjoy both poker and casino games at the same time.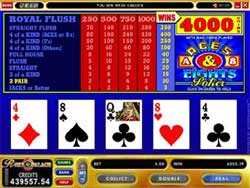 Aces and Eights is available in a single hand version at Microgaming Casinos
RTG Casinos have 1, 3, 10, 52 and 100 hand Multihand versions of Aces and Eights!
Aces and Eights is not available at Playtech Casinos
Other Games of Interest
For all othere gamblers across the board, there are a number of games of interest that would keep you entertained such as Online Roulette, Online Blackjack, Online Baccarat and of course the ever popular Online Slots